Game change for Game 2 of the Caps-Caribous Semi-Final
Due to the impending forecast, game 2 of the St. John's Caps - Clarenville Ford Caribous semi-final has been moved to Sunday, March 8th at 1:30pm at the Eastlink Events Center.
[2020-03-10 19:17:33]
---
Game 4 goes tonight in CBS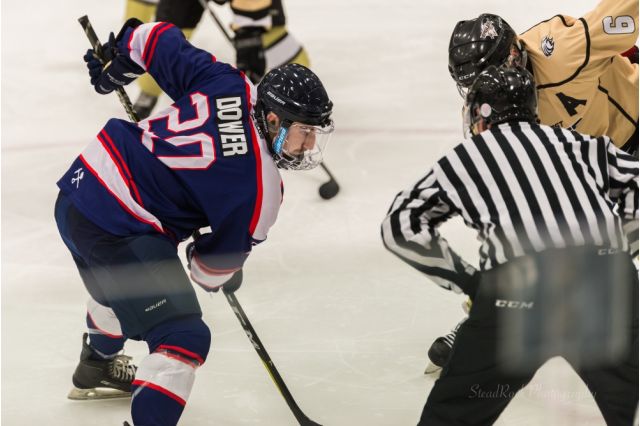 The Conception Bay Blues and Northeast Eagles will meet again Tuesday night for game 4 of their best of 5 quarter final series which the Blues currently lead 2-1. The Blues took an early series lead on the road, winning game 1 6-5 in overtime, but the Eagles bounced back in game 2 scoring with just 6 seconds remaining for a 6-5 win of their own. Game 3 was another close one, the Blues broke the a 3-3 midway through the final period and held on for a 6-4 win on the road to take the series lead.
[Full Story]
[2020-03-03 09:48:19]
---
The ECSHL playoff format for the 2019-20 season has been finalized. Following the completion of the regular season, the top two teams with receive a bye for the first round with 3rd vs 6th and 4th vs 5th. Both series' will be 3 out of 5. Winners will advance to play the 1st and 2nd place teams.
[Full Story]
[2020-02-04 19:25:05]
---

The 2019-20 ECSHL final draft is just around the corner. Submit your application https://forms.
[Full Story]
[2020-01-09 11:02:15]
---
Ceebees vs Caribous Game postphoned
The December 15th game between the HGOE Ceebee Stars and the Clarenville Ford Caribous has been postponed and will be rescheduled at a later date.
[2019-12-14 14:10:13]
---

The 2019-20 ECSHL mid-season season is just around the corner. To have your name entered into the draft, please complete the follow application. Submit your application https://forms.
[Full Story]
[2019-12-01 22:50:21]
---
Herder games 1 & 2 Ticket Sales
Tickets for games 1 and 2 of the 2018-19 Herder Memorial will go on sale this Saturday, March 30th at the Jack Byrne Regional arena. The East Coast Senior Hockey League champion Southern Shore Breakers will host the Grand Falls Cataracts next Saturday night at 7:30 in game 1. The teams return to action the following day at 2:00 for game 2. Tickets are $20 adults and $10 for youth.
[Full Story]
[2019-03-29 11:20:14]
---
Tickets for game 7 between the Conception Bay Blues and the Southern Shore Breakers will go on sale 9AM Friday morning at the CBS Arena box office, the box office will remain open until the end of Fridays game. General admission is $10 adult, $5 youth.
[Full Story]
[2019-03-14 14:07:19]
---